Stabilization
---
* Stabilization is the improvement of porous gemstone roughs.
* Enhanced hardness and color are achieved through the impregnation of Acrylic Polymer Resins.
---
Before
---
The turquoise is soft with light color.
---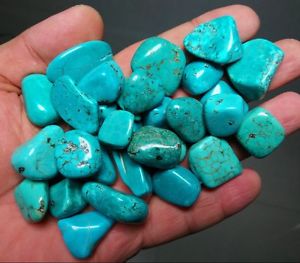 ---
After
---
The turquoise is hard with good color, ready for Jewelry production.
We specialize in turquoise stabilization, but also stabilize many other semi-precious roughs such as: Chrysocolla, Azurite, Varasite, Alunite, Phosphersiderite, Malachite, and Sponge Coral.
Our 40 years of experience help you determine the correct process to improve your rough.
Certain types of rough should be compressed ("blocked") into cube shape to improve yield and production.
Additionally, unusual colour enhancement or dye treatments are available. For example, Purple and Lime-Green have been popular for Turquoise and Alunite.