We produce over 100 variations of TruStone™ such as: turquoise, azurite, malachite, lapis, amber, and pearl.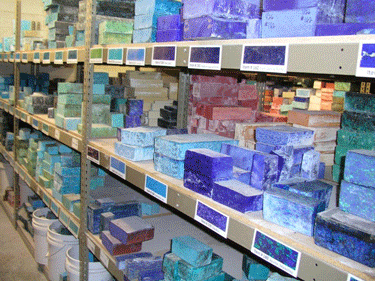 ---
Standard
---
This is formulated to recreate the look and hardness of natural gemstone. For cutting, diamond tools such as a tile saw with diamond cutting blade with water coolant or any standard lapidary equipment are necessary. To bring out a nice finish, fine sandpaper and a cotton buffing wheel are helpful.
---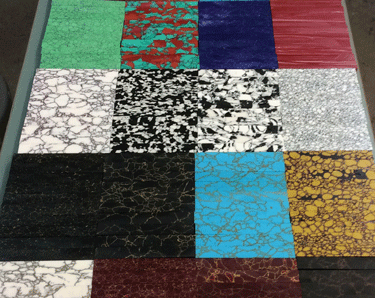 ---
Pliable
---
A softer TruStone™ originally formulated for use in sink basins and pen barrel production. Since this material is softer, standard woodworking tools are acceptable, though some colors are harder than others.
Frequently Asked Questions
Please call for pricing.
By the pound lbs.
Different colors have different weight densities.
Yes, we make custom colors!
We need a minimum 50 lbs order for each custom color.
Crushed ores and resins.
Each color has a different composition.
The low cost and beauty.
Block form increases product yield as compared to the various shapes of nuggets.
We apologize. At this time, we do not offer samples.
Please contact us and we may work something out.